Tag Archives | AGE
Leachate extraction embraces landfill site wells and boreholes, pumping systems, plus pipelines, leachate monitoring and control systems.
Have you ever wondered why leachates can seem so different. Some leachate is cloudy, black, and smells strongly, while at other times it is fairly odorless and amber coloured?
Steve Last is a self employed consultant who offers consultancy advice through his business (IPPTS Associates). (For more information on the consultancy service we offer, please go to our About page.)
Please use the form below to contact us if:
You have feedback about this website, or suggestions for us to help us improve this website
You would like to discuss a leachate related project with which we may be able to assist you, or an existing leachate related problem, with a view to commissioning our consultancy services and obtaining a quote from us.
We endeavour to answer all emails within 3 working days.
Leachate landfills – general information about leachate, and how it is present in landfilled waste, affects landfills, and is collected.
Leachate starts as rainfall.
Rain falling on the top of the landfill is the main contributor to the generation of leachate, and is by far the largest contributor for modern sanitary landfills which do not accept liquid waste. In old unlined and un-engineered landfills, some leachate is produced from groundwater entering the waste. Some, additional leachate volume is produced during waste decomposition, and some additional surface water will sometimes run onto waste from its surroundings.
The decomposition of carbonaceous material produces some additional water, and a wide range of other materials including methane, carbon dioxide and a complex mixture of organic acids, aldehydes, alcohols and simple sugars, which dissolve in the leachate cocktail.
The precipitation percolates through the waste and takes in dissolved and suspended components from the biodegrading waste, through physical and chemical reactions.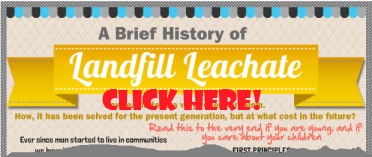 Most landfills are designed to minimise the amount of leachate they create during their lifetimes. However, there are good scientific reasons to suggest that it would be better to flush all landfills out and to do this, would produce more leachate, faster. Landfills where the latter philosophy is adopted, are called, "bio-reactor" landfills. In Europe, bioreactor landfills are effectively prohibited by EU directives, leading them to be called "dry tombs" by some, due to their rapid capping, and minimised leachate production.
The environmental risks of leachate generation arise from it escaping into the environment around landfills, particularly to watercourses and groundwater. These risks can be mitigated by properly designed and engineered landfill sites. Such sites are those that are constructed on geologically impermeable materials or sites that use impermeable liners made of  geotextiles  or engineered  clay . The use of linings is now mandatory within both the United States and the European Union, except where the waste closely controlled and genuinely inert.
Most toxic and difficult materials are now specifically excluded from landfill. However, despite much stricter statutory controls the leachates from modern sites are currently stronger than ever. They also contain a huge range of contaminants. In fact, anything soluble in the waste disposed will enter the leachate. Within the lists of substaces present in leachate are very low concentrations of "trace contaminants" which can have quite strongly contaminating effects. These are nowadays most often derived  from materials in household and domestic retail products which enter the waste stream perfectly legally.
Unfortunately, the leachate draining from most landfills will continue to reflect the contaminants of past years, when regulatory controls were less.
These substances in include extremely low concentrations of heavy metals (for example from batteries), herbicides and pesticides (as used in gardens), etc. However, leachate is becoming less contaminated with difficult substances as time goes forward, and public awareness, recycling and increased statutory control over these substances, throughout the industrialized world is making leachate less harmful in this respect.
"Leachate has a very high ammoniacal nitrogen concentration"
The concern about environmental damage from waste leachate, largely arises from its high organic contaminant concentrations and much higher ammoniacal nitrogen than commonly found in any other organic effluent.  Pathogenic   microorganisms and toxic substances that might be present in it have in the past been described as the most important. However, pathogenic organism counts reduce rapidly with time in the landfill, so this only applies to the youngest leachate and leachate is seldom removed from the landfill in this condition.
One of the most comprehensive scientific studies yet undertaken worldwide on leachate, was published by the United Kingdom, DOE., in 1995. It is titled: "A review of the composition of leachate from domestic wastes in landfill sites"; Department of Environment Research Report No. CWM 07294, and still provides much essential data on the range of contaminands present in Municipal Solid Waste, and Commercial and Industrial Waste landfill leachate.
Landfill Operators must watch out for any landfills leachate accumulating in their landfills. This is to avoid finding that large volumes of leachate have collected which may escape and threaten to the local water environment. The solution is given here.
WEBSITE DISCLAIMER FOR www.leachate.co.uk
This website generates some of its revenue through affiliate marketing and while the information contained in this website is for general information purposes only, it is also intended to promote specific products and services that pay us a percentage of each sale they make though individuals that have followed our links and recommendations.
Whilst we endeavour to keep the information up-to-date and correct, we make no representations or warranties of any kind, express or implied, about the completeness, accuracy, reliability, suitability or availability with respect to the website or the information, products, services, or related graphics contained on the website for any purpose. Any reliance you place on such information is therefore strictly at your own risk.
In no event will we be liable for any loss or damage including without limitation, indirect or consequential loss or damage, or any loss or damage whatsoever arising from loss of data or profits arising out of or in connection with the use of this website.
Through this website there are links to other websites which are not under the control of www.leachate.co.uk. We have no control over the nature, content and availability of those sites. The inclusion of any links does not necessarily imply a recommendation or endorse the views expressed within them.
Every effort is made to keep the website up and running smoothly. However, www.leachate.co.uk takes no responsibility for and will not be liable for the website being temporarily unavailable due to technical issues beyond our control.
QUESTIONS, COMMENTS, OR REPORT OF INCIDENTS
You may direct questions, comments or reports to:
To contact us please visit our "Contact" page, and use the email from provided.
REVISIONS TO THIS WEBSITE DISCLAIMER WITHOUT NOTICE
This DISCLAIMER is dynamic. It will continually change. You may not assume that it remains the same and you agree to check the policy each time you visit the site for changes. Unless, in the sole opinion of the website, this policy changes so drastically as to suggest a posted notification on the site or via email, you will receive no notification of changes to this Disclaimer nor, under any circumstances, does this site promise notification. Your continued use of this site always evidences your acceptance of the terms of this DISCLAIMER or any modifications.
LATEST UPDATE
This Disclaimer was last updated on: 16 January 2011
PRIVACY POLICY FOR www.leachate.co.uk
This privacy policy sets out how "www.leachate.co.uk" uses and protects any information that you give "www.leachate.co.uk" when you use this website.
"www.leachate.co.uk" is committed to ensuring that your privacy is protected. Should we ask you to provide certain information by which you can be identified when using this website, then you can be assured that it will only be used in accordance with this privacy statement.
"www.leachate.co.uk" may change this policy from time to time by updating this page. You should check this page from time to time to ensure that you are happy with any changes. This policy is effective from 16 January 2011.
WHAT WE COLLECT
We may collect the following information:
– Name
– Email Address
– Phone Numbers
– Demographic information such as postcode, preferences and interests
– Information relevant to customer surveys and/or offers
What we do with the information we gather.
We require this information to understand your needs and provide you with a better service, and in particular for the following reasons:
Internal record keeping.
We may use the information to improve our products and services.
We may periodically send promotional email about new products, special offers or other information which we think you may find interesting using the email address which you have provided.
From time to time, we may also use your information to contact you for market research purposes. We may contact you by email, phone, fax or mail.
We may use the information to customize the website according to your interests.
SECURITY
We are committed to ensuring that your information is secure. In order to prevent unauthorized access or disclosure we have put in place suitable physical, electronic and managerial procedures to safeguard and secure the information we collect online.
How we use cookies
A cookie is a small file which asks permission to be placed on your computer's hard drive. Once you agree, the file is added and the cookie helps analyze web traffic or lets you know when you visit a particular site. Cookies allow web applications to respond to you as an individual. The web application can tailor its operations to your needs, likes and dislikes by gathering and remembering information about your preferences.
We use traffic log cookies to identify which pages are being used. This helps us analyze data about web page traffic and improve our website in order to tailor it to customer needs. We only use this information for statistical analysis purposes and then the data is removed from the system.
Overall, cookies help us provide you with a better website, by enabling us to monitor which pages you find useful and which you do not. A cookie in no way gives us access to your computer or any information about you, other than the data you choose to share with us.
You can choose to accept or decline cookies. Most web browsers automatically accept cookies, but you can usually modify your browser setting to decline cookies if you prefer. This may prevent you from taking full advantage of the website.
PERSONS UNDER 18 YEARS OF AGE ARE EXCLUDED FROM THIS WEBSITE
This website is not lawfully accessible to persons under the age of 18 or who are otherwise covered by the provisions of the Child Online Privacy Act of 1998 (COPA). If you are under the age of 18 you must leave this site immediately. Fraudulent use of this website may make you subject to civil or criminal sanctions.
LINKS TO OTHER WEBSITES
Our website may contain links to enable you to visit other websites of interest easily. However, once you have used these links to leave our site, you should note that we do not have any control over that other website. Therefore, we cannot be responsible for the protection and privacy of any information which you provide whilst visiting such sites and such sites are not governed by this privacy statement. You should exercise caution and look at the privacy statement applicable to the website in question.
YOUR PERSONAL INFORMATION
We will not sell, distribute or lease your personal information to third parties unless we have your permission or are required by law. We may use your personal information to send you promotional information about third parties which we think you may find interesting if you tell us that you wish this to happen.
You may request details of personal information which we hold about you under the Data Protection Act 1998. A small fee will be payable. If you would like a copy of the information held on you please send an email to To contact us please visit our "Contact" page, and use the email from provided..
If you believe that any information we are holding on you is incorrect or incomplete, please write to or email us as soon as possible, at the above address. We will promptly correct any information found to be incorrect.
GOOGLE ADSENSE AND THE DOUBLECLICK DART COOKIE
Google, as a third party advertisement vendor, uses cookies to serve ads on this site. The use of DART cookies by Google enables them to serve adverts to visitors that are based on their visits to this website as well as other sites on the internet.
To opt out of the DART cookies you may visit the Google ad and content network privacy policy at the following url http://www.google.com/privacy_ads.html Tracking of users through the DART cookie mechanisms are subject to Google's own privacy policies.
Other Third Party ad servers or ad networks may also use cookies to track users activities on this website to measure advertisement effectiveness and other reasons that will be provided in their own privacy policies, www.leachate.co.uk has no access or control over these cookies that may be used by third party advertisers.
QUESTIONS, COMMENTS, OR REPORT OF INCIDENTS
You may direct questions, comments or reports to:
To contact us please visit our "Contact" page, and use the email from provided.
REVISIONS TO THIS PRIVACY POLICY WITHOUT NOTICE
This Privacy Policy is dynamic. It will continually change. You may not assume that it remains the same and you agree to check the policy each time you visit the site for changes. Unless, in the sole opinion of the website, this policy changes so drastically as to suggest a posted notification on the site or via email, you will receive no notification of changes to this Privacy Policy nor, under any circumstances, does this site promise notification. Your continued use of this site always evidences your acceptance of the terms this Privacy Policy or any modifications.
LATEST UPDATE
This Privacy Policy was last updated on: 16 January 2011
TERMS OF USE FOR www.leachate.co.uk
Welcome to www.leachate.co.uk. If you continue to browse and use this website you are agreeing to comply with and be bound by the following terms and conditions of use, which together with our privacy policy govern www.leachate.co.uk's relationship with you in relation to this website.
The term "www.leachate.co.uk" or "us" or "we" refers to the owner of the website. The term "you" refers to the user or viewer of our website.
The use of this website is subject to the following terms of use:
ALL PERSONS UNDER THE AGE OF 18 ARE DENIED ACCESS TO THIS WEBSITE. IF YOU ARE UNDER 18 YEARS OF AGE, IT IS UNLAWFUL FOR YOU TO VISIT, READ, OR INTERACT WITH THIS WEBSITE OR ITS CONTENTS IN ANY MANNER. THIS WEBSITE SPECIFICALLY DENIES ACCESS TO ANY INDIVIDUAL THAT IS COVERED BY THE CHILD ONLINE PRIVACY ACT (COPA) OF 1998.
The content of the pages of this website is for your general information and use only. It is subject to change without notice.
Neither we nor any third parties provide any warranty or guarantee as to the accuracy, timeliness, performance, completeness or suitability of the information and materials found or offered on this website for any particular purpose. You acknowledge that such information and materials may contain inaccuracies or errors and we expressly exclude liability for any such inaccuracies or errors to the fullest extent permitted by law.
Your use of any information or materials on this website is entirely at your own risk, for which we shall not be liable. It shall be your own responsibility to ensure that any products, services or information available through this website meet your specific requirements.
This website contains material which is owned by or licensed to us. This material includes, but is not limited to, the design, layout, look, appearance and graphics. Reproduction is prohibited other than in accordance with the copyright notice, which forms part of these terms and conditions.
All trademarks reproduced in this website, which are not the property of, or licensed to the operator, are acknowledged on the website.
Unauthorized use of this website may give to a claim for damages and/or be a criminal offence.
From time to time this website may also include links to other websites. These links are provided for your convenience to provide further information. They do not signify that we endorse the website(s). We have no responsibility for the content of the linked website(s).
Your use of this website and any dispute arising out of such use of the website is subject to the laws of England.
REVISIONS TO THIS WEBSITE TERMS OF USE WITHOUT NOTICE
This TERMS OF USE for www.leachate.co.uk is dynamic. It will continually change. You may not assume that it remains the same and you agree to check the policy each time you visit the site for changes. Unless, in the sole opinion of the website, this policy changes so drastically as to suggest a posted notification on the site or via email, you will receive no notification of changes to this TERMS AND CONDITIONS for www.leachate.co.uk nor, under any circumstances, does this site promise notification. Your continued use of this site always evidences your acceptance of the TERMS AND CONDITIONS for www.leachate.co.uk or any modifications.
CONTACT INFORMATION
To contact us please visit our "Contact" page, and use the email from provided.
LATEST UPDATE
This TERMS OF USE for www.leachate.co.uk was last updated on: 16 January 2011
The purpose of this section of our web site is to inform newcomers about the most common liquid referred to as, leachate – landfill leachate.
This whole web site has been written to answer the question; "What is leachate?" and how to ensure it does not cause pollution, in detail. So, we suggest that byexploring our site further you will find a more comprehensive answer to "What is leachate?, if you need it.
For now, we will give you the most concise answer to the question of what leachate is, by providing our definition of leachate below:
The Definition of Leachate
Leachate is the liquid that drains or 'leaches' from a landfill. It varies widely in composition regarding the age of the landfill and the type of waste that it contains. It usually contains both dissolved and suspended material.
In fact the term "leachate" is so often applied to landfill leachate, both within the waste management industry and outside, that it is easy to forget that leachate is the term used for any liquid produced by the action of "leaching". Leaching occurs when water percolates through any permeable material.
Having Read the Answer to "What is Leachate" Most People Dislike It!
Once many people have the answer to their first question of; "What is leachate?", they realize that it is pretty unpleasant stuff (it smells, can cause pollution etc.). Naturally,they often react by saying they would rather it was not produced. "Let's not have any around here then", being a common sentiment expressed!
In most temperate and tropical climates, landfills will unavoidably produce some leachate. To stop producing any leachate would in most cases entail sending "zero waste to landfill". At the present time only a very few (probably less than a dozen) sizeable communities have been able to achieve what is known as "zero waste". That means, for most of  us that there will still have to be actively operating landfills in our area.
No matter how hard landfill designers and operators try to avoid generating waste, through waste reduction, re-use, recycling, composting. Not to mention the many other methods of waste pre-treatment prior to landfilling. Landfilling will continue for many years yet, and thus leachate generation and its safe disposal without causing pollution, is a problem which is here to stay.
Even if all the landfills could be closed, and the creation of new leachate from rainfall falling on open (operational) landfill phase surfaces, could be stopped today, we would still have to manage the leachate from both the present operational sites,and all the old closed landfills.
There are many thousands of existing operational and closed landfill sites, which will continue to produce leachate for generations. For that reason following good practice in leachate minimisation, collection, treatment and disposal, is a very important part of the job of any landfill operator.