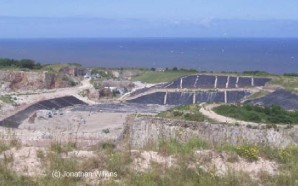 To the site operator leachate recirculation would certainly appear like commonsense as some of the leachate recirculated will be taken in by the waste and not re-appear. The leachate will gain some treatment – especially a significant reduction in BOD and COD by anaerobic digestion within a methanogenic landfill. In addition, if leachate is being […]
There are two strategies for leachate management. The most common and indeed the only legal way to do manage leachate in the European Union countries is to keep the waste as dry as possible, and not introduce any liquid wastes. That produces the least amount of leachate, and keeps costs low during the infilling of […]
The Leachate Attenuation Zone Explained A leachate attenuation zone is essentially a buffer zone around a landfill that protects against contamination of groundwater by its pollution from dangerous or hazardous wastes. Lots of older landfills were developed before stricter laws were implemented have been described as having "leachate attenuation zones". In the UK these types […]
Anaerobic digestion is becoming increasingly popular in this age of high energy prices, and many more people are realising that whereas aerobic treatment systems consume large amounts of expensive energy, anaerobic digestion is a process which does the opposite. In fact it produces a net energy output. It is not surprising therefore, that many […]
Download our FREE time saving calculator which is intended for use for trade effluent discharge cost assessments for England, Wales and Northern Ireland in respect of sewer discharges. The Free Trade Effluent Charges Calculator software will be useful for anyone making an industrial effluent discharge to a sewer, and who wants to know how much it will cost.
"The person who walks with his/her eyes on the stars, is susceptible to the puddles in the road." We all would like to follow our stars, but at times we need to do some "puddle watching" too! Sometimes we need to know what not to do, what things and actions to avoid, and why…
When designing any leachate management system the assessment of the most economic method for leachate treatment and disposal is heavily dependent upon the flow rate and duration of flow. A high capital cost option such as on site leachate treatment will be worthwhile, but only if the total volume the plant treats daily is sustained […]
Leachate recirculation in the form of pumping leachate from the base of a cell back up into the top of the waste has been practised in the past, and continues to be used, at the majority of landfills.
Most landfills still generate leachate, and the first and most obvious action, when leachate starts to appear, is to… Read this to find out more!